McKinney Trusted Leader in Restoration and Clean-Up, Since 1976
24/7 Emergency Services
Main Water Line Break Damage in McKinney, Texas
A break in your home's main water line, for example, may pose the greatest threat to you and your family, but it would take a while for the water to seep into your home before you noticed it. These incoming and outgoing water pipes can be hidden in walls, ceilings, or floors. It may be difficult to determine the exact location of a broken or malfunctioning main water line. These cracks are usually not seen until water damage gets serious enough to attract attention.
If you have a broken main water line or other water pipe break related issues in Frisco, Denison, Plano, Gainesville, or any other city within our service area, call the IICRC-certified experts at Dalworth Restoration Mckinney at 903-459-7774 or contact us online for assistance with water damage restoration.
Why Choose Dalworth for Main Water Line Break Restoration?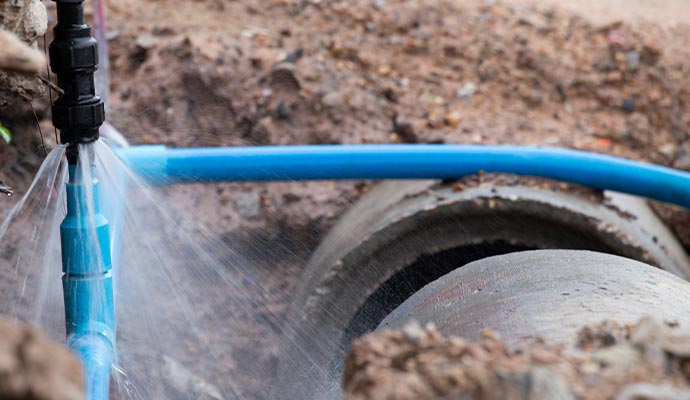 Whenever an accident occurs, the specialists at Dalworth Restoration Mckinney are ready with cutting-edge tools and methods for disaster restoration. Trust us to quickly determine the severity of the condition and begin restoring the broken main water line in your home. Our years of experience, top-tier outcomes, and dedication to ensuring each and every one of our clients is completely satisfied with our work, are what make us the go-to company for water damage restoration.
Our goal is to help clients get their properties back in as good or better shape as they were in before the damage occurred. Around the clock, we're here to help our most valued customers who are experiencing unexpected situations. Dalworth Restoration Mckinney is committed to providing each and every one of our customers with the highest standard of service possible during their time of need following water damage. After experiencing an accident or natural calamity, we hope to assist you in putting your life back together.
Rely on Us for High-Quality Repairs to Your Broken Main Water Line
Dalworth Restoration Mckinney is an integral element of the Dalworth Group, serving the Mckinney, Texas region with high-quality water damage restoration and plumbing repair services. If you have a broken main water line and need to get it repaired, give us a call at 903-459-7774 or click here to contact us online.