McKinney Trusted Leader in Restoration and Clean-Up, Since 1976
24/7 Emergency Services
Flood Damage Restoration Services in Sherman & McKinney
Whether caused by an appliance failure, pipe burst, toilet overflow, or infiltration by water from outdoors, an indoor flood at your residence or workplace requires flood damage restoration services immediately to prevent major structural damage. You can rely on Dalworth Restoration McKinney to deliver in these situations for homeowners and business owners in Melissa, McKinney, Allen, Piano, and other cities we serve within Collin County & Grayson County.
We understand that dealing with flood damage can be emotionally draining, and that is why our IICRC-certified technicians will leave no stone unturned to restore your flood-damaged property to its pre-loss condition. For almost 50 years, Dalworth technicians have provided Texas-based customers with a wide array of water damage restoration services that include much more than flood damage restoration. We also handle water pipe break restoration, appliance leak cleanups, sewage removal & cleanup, and more. To schedule our services, give us a call at 903-459-7774 or click here.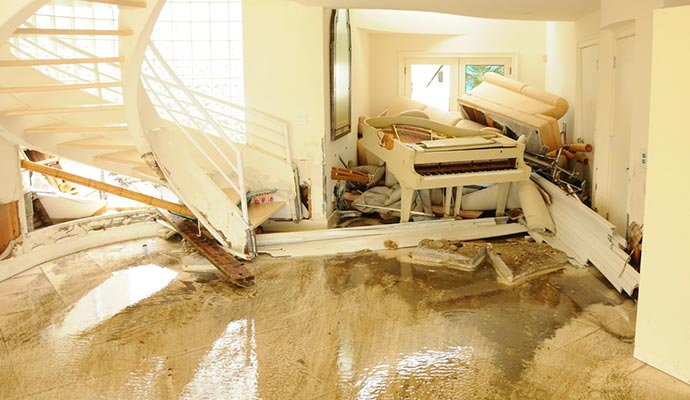 Self-Help Tips to Minimize the Impact of Flood Damage
Until help arrives, tips to minimize flood damage include:
Turn off the electrical power & natural gas line.
Check for possible gas leaks or fire hazards.
Move important documents & content to dry locations.
For protection, wear rubber gloves, shoes, and sunglasses.
Utilize battery-operated light sources.
Remove any pets, pests, and floating debris.
If mold is present, breathe through a spore filter.
Call the restoration company as soon as possible.