McKinney Trusted Leader in Restoration and Clean-Up, Since 1976
24/7 Emergency Services
HVAC Discharge Line Repair in McKinney, Texas
The liquid refrigerant is discharged from the compressor and sent to the condenser via the HVAC system's discharge line. Refrigerant might leak from the hoses if the valves that seal them wear out. Look for leaks of refrigerant or other damage to your discharge line.
Dalworth Restoration McKinney is the company to call if you reside in Denison, Plano, Frisco, Melissa, or any other places within our service area and are having problems with your HVAC discharge line. Our cutting-edge tools and a team of highly trained experts allow us to offer first-rate work at competitive rates. For more information on HVAC discharge line repair or any other water damage restoration services we do, please give Dalworth Restoration McKinney a call at 903-459-7774 or contact us online.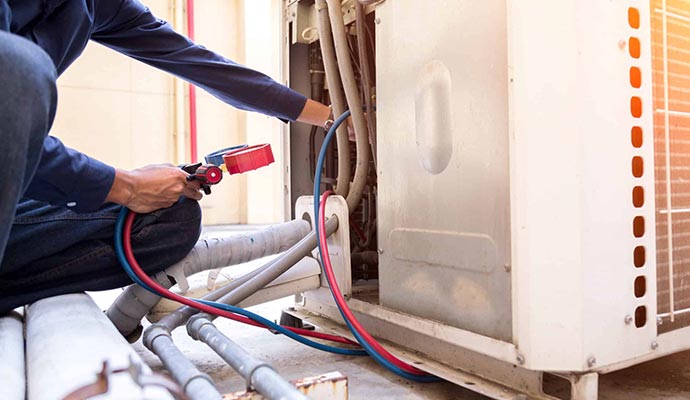 Common HVAC Discharge Line Issues
When it comes to fixing HVAC systems' discharge lines, Dalworth Restoration McKinney is your best option. Here are several warning signs that it's time for some maintenance or fixing:
Disturbing sounds coming from the air conditioner's compressor or other machinery.
There is a growth of mold, algae, or other foreign materials on your discharge line.
The air conditioning in the building is malfunctioning and the temperature inside is rising uncontrollably.
Trust Dalworth Restoration McKinney for HVAC Discharge Line Repair in McKinney
For quick assistance with emergency HVAC discharge line repair services, please reach out to Dalworth Restoration McKinney as soon as possible at 903-459-7774 or on our website. In order to keep the amount of damage to a minimum, contact our HVAC and water damage repair specialists as soon as possible if you have any problems with your HVAC system, plumbing leaks, or flooding caused by a major accident. As part of our procedure for cleaning up the damage caused by burst pipes, we offer water removal, cleanup, drying, and dehumidification, as well as other restoration services.