McKinney Trusted Leader in Restoration and Clean-Up, Since 1976
24/7 Emergency Services
Roof Leak Restoration Services in McKinney & Sherman, TX
When water is pouring into your property from a roof leak, you require to take action as soon as possible. Your best move is to contact the water damage restoration experts at Dalworth Restoration McKinney for some roof leak restoration services at your property in Anna, Sherman, Denison, Celina, Prosper, and other cities within our service region.
In addition to roof leak damage restoration & cleanup, our wide array of stellar water damage restoration services includes sewage removal & cleanup, structural damage restoration, water pipe break restoration, and more. For both residential and business locations, we offer a full-service emergency response in the wake of a roof leak. For more information, dial 903-459-7774 or click here to make an appointment for more information.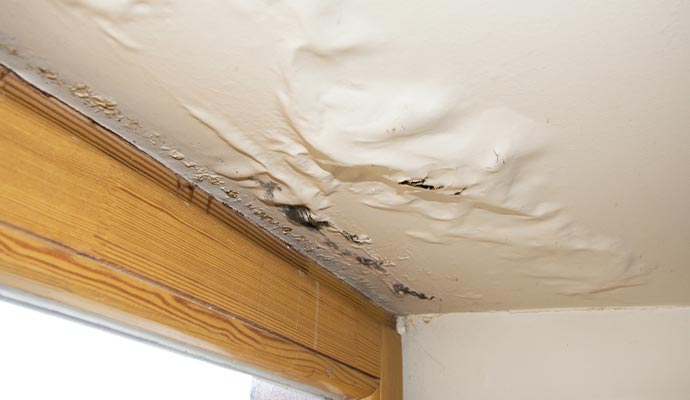 How Roof Leaks Impact Property
Foundation Problems: A significant factor in foundation deterioration is roof leaks. Without a correct drip edge, water that overflows your gutters might seep into the house or run down & damage the foundation of your property.
Insulation Damage: Insulation in your attic, walls, and ceilings can be destroyed by roof leaks.
Floor Damage: Over time, an unnoticed roof leak can damage floor joists, wood, carpets, and hardwood floors.
Personal Property Loss: Roof leaks allow water to enter at unique angles, possibly damaging furniture, electrical devices, artwork, and other personal items.
Let Us Restore Your Property After a Roof Leak in McKinney, Prosper, Plano, or Frisco
At Dalworth Restoration McKinney, our restoration experts handle more than just water damage, fire damage, and structural damage. You can also rely on our knowledge of roof leak damage restoration to prevent the damage from spreading to other parts of your property and making the issue worse, For additional information, call 903-459-7774, or click here to schedule our services right away for your home or office in Plano, McKinney, Sherman, Frisco, Melissa, or anywhere else throughout our service area in Collin County & Grayson County.