McKinney Trusted Leader in Restoration and Clean-Up, Since 1976
24/7 Emergency Services
Water Damage Restoration & Mold Remediation in Celina, TX
Water is essential for existence, but it has the potential to cause serious damage to your property. Anytime sudden storms like tornados, heavy rains, or floods can strike your property in Celina, and cause extensive water damage. Furthermore, water pipe bursts, plumbing leaks, appliance leaks, and more also lead to water damage. 
The concern is that if any water damage is left unattended, it can promote damage to hardwood floors, structural damage, and mold growth. This mold can pose health risks and degrades indoor air quality if not remediate timely. That's why, right after any water damage, necessary steps should be taken to minimize the damage.
The good news is that Dalworth Restoration McKinney provides the best water damage, storm damage, fire damage, and mold remediation services for homeowners and business owners in Celina. Whenever you experience a water, storm, or mold-related problem, just dial 903-459-7774. Our restoration team is always ready to help you with any emergency situation.
Over 62,000+
Successful Restoration
Projects Completed
24/7 Emergency Services
Bonded, Licensed & Insured
Work Directly with All Insurance Companies
Free Estimates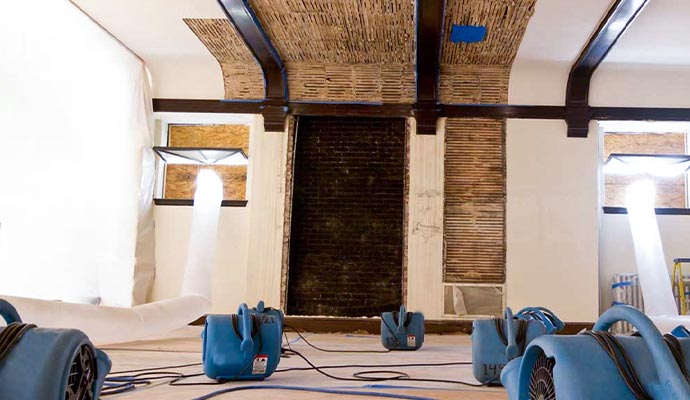 Benefits of Professional Restoration Services
Having a professional restoration company on your side is crucial when dealing with water, storm, or mold damage to your home or business. If you're looking for a reliable and trustworthy company for your restoration needs in Celina, Dalworth Restoration McKinney is your best bet. At Dalworth, our restoration services include:
Prompt Action: Our immediate response and quick service minimizes the risk of additional damages and brings back your life to the normal state as before.
Experience & Expertise: Our years of experience and expertise helps us serve you with the best quality service within the shortest possible time.
Complete Restoration: We use the necessary equipment and advanced technology to thoroughly clean, disinfect, deodorize, and ultimately restore all damaged areas to their original condition.
Mold Prevention: Our complete removal of mold from its source ensures that it won't be back anymore. Thus we ensure a mold-free atmosphere.
Trust Us for The Best & Reliable Restoration Services in Celina, TX
When it comes to restoration services, our company is among the best options for residents of Celina. Anytime you need emergency restoration service, feel free to contact us at 903-459-7774 or click here for more information.