McKinney Trusted Leader in Restoration and Clean-Up, Since 1976
24/7 Emergency Services
Floor Water Damage Restoration in Allen, Frisco, & McKinney
An indoor flood at your home or office in Collin County or Grayson County will trigger the need for water restoration services for floor damage. To address the situation, you can rely on the IICRC-certified technicians from Dalworth Restoration McKinney when you need our help at your property in Anna, Sherman, Denison, McKinney, Allen, and other cities within our service area.
Our crews have the experience, expertise & equipment to restore damage to all types of floors: tile, linoleum, wood, marble, or anything else to provide top-notch floor water damage restoration services. Our emergency crews are ready to roll on a 24/7/365 basis. We also handle structural damage restoration, appliance leak clean-up, water pipe break restoration, and more. Reach out to us by calling 903-459-7774 for more information or a free estimate. You can also click here to book a reservation and feel the difference yourself.
Understand The Significant Signs of Floor Water Damage
In order to prevent floor water damage, you need to keep an eye out for signs of floor deterioration that include: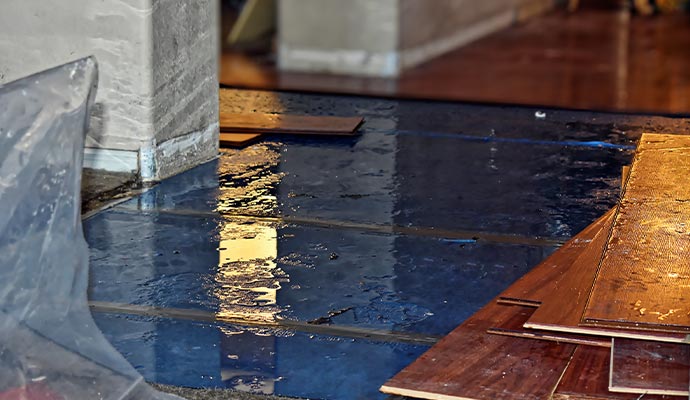 Warping: Humidity is the main factor in warping. Flooring often expands, contracts, and separates due to variations in humidity.
Cracks or Crowning: Crowning in hardwoods is caused by moisture. Typically, individual boards are wider in the middle. When they get wet, they crown or crack.
Discoloration: The hardwood floor will become discolored as a result of excess moisture. Even the slightest color change should be considered a warning.
Mold growth: Mold presents a significant problem for flooring. Remediation is essential when mold starts to form.
Trust Us to Restore Your Damaged Floor in McKinney, Plano, Frisco, & Sherman
At Dalworth Restoration McKinney, we have been a major player in the restoration industry in North Texas since 1976. Our certified and trained professionals treat your property with the utmost care while restoring it to its pre-condition. Our talented technicians also offer water damage restoration services, structural damage restoration, flood damage restoration, appliance leak cleanup, and more. To find out more about our services in Collin County & Grayson County, call us at 903-459-7774 or click here to make an appointment for restoration services ASAP in Plano, Frisco, Melissa, Celina, or Prosper.