McKinney Trusted Leader in Restoration and Clean-Up, Since 1976
24/7 Emergency Services
Black Mold Remediation in McKinney, TX
Black mold is attracted by moisture caused by flood damage, water pipe break, or any other water-related issues and causes significant damage to your property, and its indoor air quality. If you suspect black mold in your residential and commercial area, you need to take immediate action. Otherwise, it will affect your family's health.
At Dalworth Restoration McKinney, we have mold remediation professionals who are well-qualified with all the necessary tools to remove molds from your property properly. We offer mold remediation services to our customers in Melissa, Plano, Sherman, Gainesville, and nearby areas. Call us at 903-459-7774 to directly talk with our professionals. Make an appointment with black mold remediation experts today by clicking here.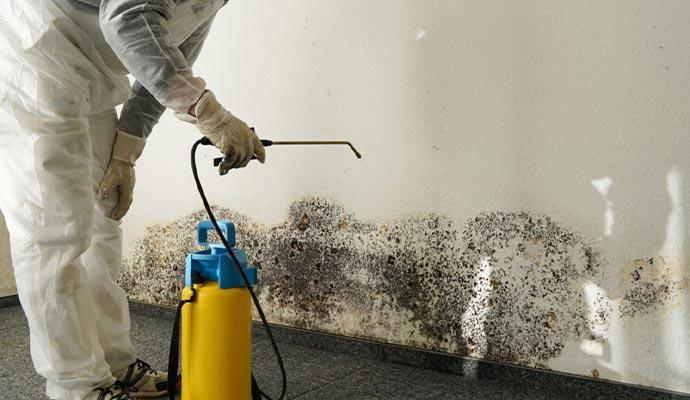 Health Issues from Black Mold
It is important to remove black molds caused by water damage in your house. If you suspect black mold growth in your vicinity, contact our certified specialists. They will inspect your house, find out the mold growth issues, and properly remove mold. The following are some of the potential health hazards connected with black mold exposure:
Respiratory issues: Black mold can release airborne spores that can irritate the respiratory system and cause symptoms such as coughing, sneezing, runny nose, and throat discomfort.
Allergic responses: Exposure to black mold can cause allergic reactions in certain people. Nasal congestion, watery or itchy eyes, skin rashes, and hives are some of the symptoms. The intensity of these allergic reactions varies.
Fatigue and weakness: After extended exposure to black mold, some people suffer from fatigue, weakness, and flu-like symptoms. These symptoms are uncommon, however, they have been linked to mycotoxin exposure.
Get A Mold-Free Living Space | Contact Dalworth Restoration
Get back your home to a mold-free and healthy indoor air quality state by availing our mold remediation services from expert professionals. You can trust our certified professionals for a range of services including, water damage restoration, water pipe breaks, roof leaks, and more. Customer satisfaction is our main goal to achieve. Call our professionals at 903-459-7774 to know more. Fill out the form by clicking here to get free estimates.