McKinney Trusted Leader in Restoration and Clean-Up, Since 1976
24/7 Emergency Services
Smoke Damaged Drywall Restoration in McKinney & Frisco, TX
After a fire, smoke residue can stick to surfaces, including drywall. The residue's severity and composition depend on the fire's intensity and the materials burned. Drywall damaged by smoke may exhibit visible discoloration, staining, or blackening. Even after removing the visible residue, the smell of smoke can remain. Depending on the extent of the damage, professional evaluation and restoration are necessary for light to heavy saturation.
If you're dealing with smoke-damaged drywall, the IICRC-certified technicians at Dalworth Restoration McKinney are here to help. With years of experience and the right equipment, we can tackle any issues related to smoke & soot damage and restore your property to its original state. Whenever you require our assistance in McKinney, Plano, Allen, Melissa, Frisco, and other cities nearby, dial 903-459-7774 or click here to learn more about our fire damage restoration service.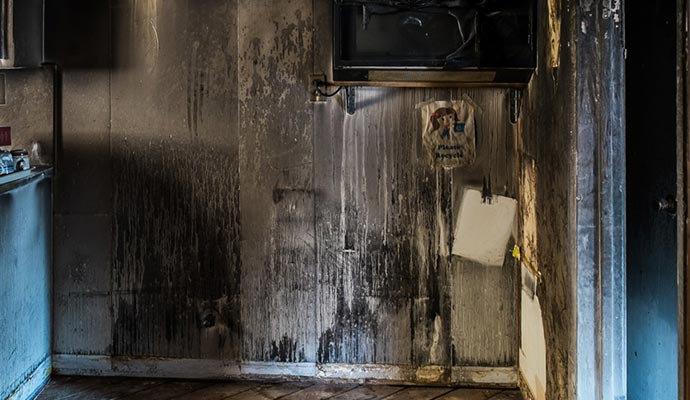 Benefits of Professional Restoration Service for Smoke-Damaged Drywall
Dalworth Restoration McKinney's professional restoration service for smoke-damaged drywall can help you with the following:
Odor Removal: Smoke can leave a persistent and unpleasant odor in the area. We can eliminate these odors for a fresh and clean environment.
Health Concerns: Residues from chemicals and toxins that can harm our health if inhaled or exposed to the skin. We can eliminate these residues to create a safe and healthy living or working environment. Prolonged exposure to smoke can also weaken the structural integrity.
Structural Integrity: Smoke residues can compromise the strength and stability of walls. Our restoration service maintains the structural integrity of drywall and prevents further damage.
Prevent Further Damage: If left untreated, smoke residues can continue to rust surfaces, promote mold growth, and deteriorate the drywall. We can mitigate these risks and prevent further damage to the affected area.
Trust Dalworth Restoration For Reliable Smoke-Damaged Drywall Repair in North Texas
Any fire can leave behind smoke, soot, residue, and other substances that can harm your property's surfaces, including drywall. So, for restoring your smoke-damaged drywall and other surfaces, trust none other than Dalworth Restoration McKinney. We also assist our customers with smoke stained ceilings, soot damage, insulation replacement, and more. Call us anytime at 903-459-7774 or click here to arrange a consultation.