McKinney Trusted Leader in Restoration and Clean-Up, Since 1976
24/7 Emergency Services
Water Pipe Break Restoration in McKinney & Sherman, TX
Over the course of time, water pipes in your home or office can break down because of excessive water pressure or aging infrastructure. However, the most common factor causing a water pipe break is sudden temperature change, particularly a sub-freezing temperature. A broken pipe will require water damage restoration services, including water pipe break restoration. For customers in Collin County & Grayson County, the best solution is to contact Dalworth Restoration McKinney.
A water pipe break can trigger a severe flood inside your property in Allen, Plano, McKinney, Frisco, Sherman, Melissa, and other cities within our service area. We have a 24/7 emergency response team to provide you with quick and friendly customer service. Our team has the experience and tools to provide effective water mitigation and water pipe break restoration services. When you need our help, call 903-459-7774 or click here to schedule services ASAP in Anna, Denison, Celina, or Prosper. Our crews also handle appliance leak cleanups, structural damage restoration, sewage removal & cleanup, and more.
Signs That You Need Restoration Services from a Water Pipe Break
Eventually, water pipes deteriorate and need to be replaced. Some telltale signs that your pipes may require attention include: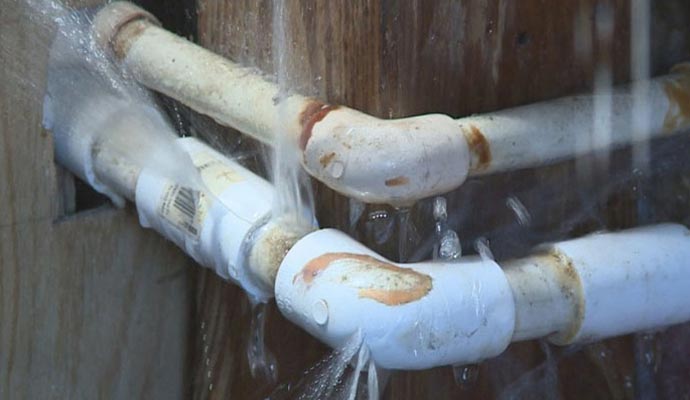 You will notice that your water pressure drops suddenly.
Your recent water bills have increased.
Foundation cracks appear.
You spot puddles in your yard.
Pipes make a noise when you turn on the sink.
There are wet patches on your lawn.
Discolored tap water is evident.
There is corrosion & rust on your water pipe
The flooring is wet or damaged.
Trust Our Water Pipe Break Restoration Services in Anna, Celina, Prosper, & McKinney
At Dalworth Restoration McKinney, our certified technicians never compromise the quality of our services. In addition to water pipe break restoration, we also provide top-notch services for flood damage restoration, sewage removal and cleanup, and water damage restoration for homeowners & business owners in Melissa, Denison, Anna, Celina, and Frisco. If you want to know more about our services, dial 903-459-7774 or click here to experience the Dalworth difference for yourself in Collin County or Grayson County.