McKinney Trusted Leader in Restoration and Clean-Up, Since 1976
24/7 Emergency Services
Water Damage Restoration Process for McKinney & Sherman
One of the essential elements in life is water. But any water that winds up pooling in the wrong place can cause severe damage to your home or office. When you spot standing water damage on your property, you should call Dalworth Restoration McKinney immediately. We have decades of experience with water damage restoration services and know that our water damage restoration process is unmatched.
Our wide array of water removal services includes water pipe break restoration, appliance leak cleanup, sewage removal & cleanup, and more. We restore damaged homes, offices, and commercial buildings in McKinney, Frisco, Melissa, Plano, and surrounding areas in the Collin County & Grayson County area. When you need our help, give us a call at 903-459-7774 or click here to schedule services at your property in Anna, Sherman, Denison, Celina, or Prosper.
Our Water Damage Restoration Process | Dalworth Restoration McKinney
Dalworth Restoration McKinney uses a time-tested water damage restoration process to address each client's needs. The steps include: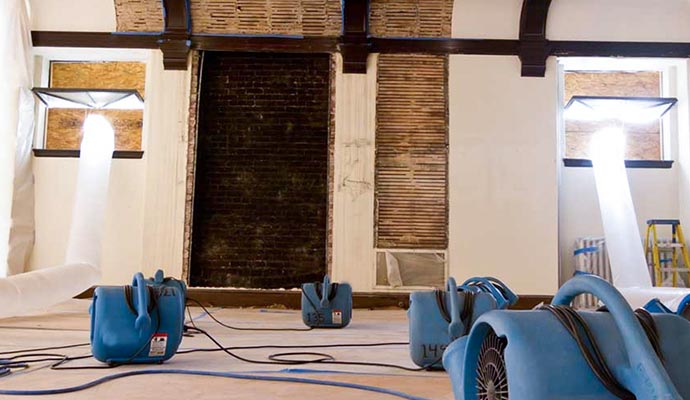 Inspection: Our experts determine the source of the flooding and the best approach to address the damage.
Water Removal: We remove standing water with industrial-sized machines that can process thousands of gallons of water.
Damage Mitigation: We perform damage mitigation services by using dehumidifiers, high-powered fans, and thermal imaging to dry the impacted area.
Water Damage Restoration: Any restoration-related needs are addressed to return the property to its pre-loss state.
Final Checkup: We use IICRC S500 standards to return your residence to its pre-loss condition. We can also bill the insurance company & assist with your claim.
Rely on Us for the Best Water Damage Restoration Process in McKinney, Melissa, & Frisco
At Dalworth Restoration McKinney, our time-tested restoration process for water damage is just as important to your recovery as our advanced machinery, cutting-edge technology, and years of hands-on experience. So we follow it every time to get the best result for every customer. In addition to water damage restoration, we also provide restoration-related services for plumbing leak damage, structural damage restoration, appliance leak cleanup, and more. When you need our help, call us right at 903-459-7774 or click here to schedule an online appointment for services in Frisco, Melissa, Prosper, or Celina.